We can improve our communication skills by watching Best English movies. Are you getting tired of learning English grammar rules? Have you ever heard that movies about communication skills?
Here, I have come up with a unique technique: improve speaking skills through watching English movies. Are you confused, thinking that film is made up of a sense of enjoyment? Isn't it?
Have you ever thought that films can help us to improve our English communication skills? It has a vast scope to enrich our knowledge about language.
We need to change our approach of learning English because English movies can show different dimensions to get control over English communication.
But the question is that which movies to watch to improve English?
Here, I have shared the ideas of the best movies for Leaning English. Let me reflect on my idea in an elaborate manner.
Rules of Watching best English movies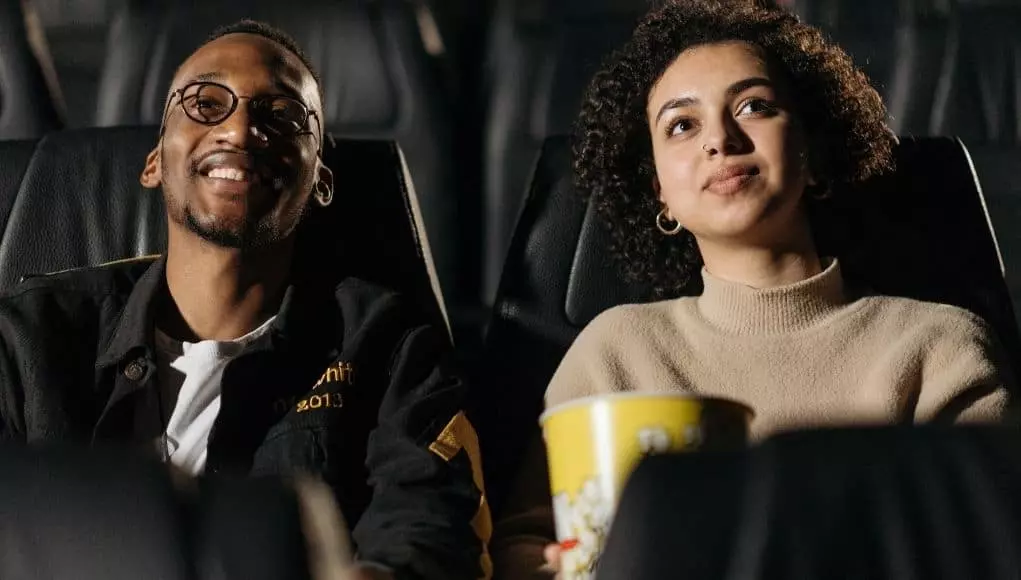 Choose movies you already know.
If you are in the initial stages of learning the English language, watch the film that you have seen earlier. It would help you to focus on the language parts instead of understanding the story.
Watching english movies to improve communication skills with subtitles.
Using subtitles while watching a movie would help you to understand in a better way. You can also convert these subtitles into your native language. Once you reach the comfort level of understanding the foreign tongue with the native influence, then you can take a challenge to understand the topic without subtitles.
Start with short movies
We need to focus on short stories or web series that could not consume your long time. We should avoid watching long history-based stories that would take us into the world of ancient times.
Break the films into small segments.
If you watch lengthy movies, I suggest you watch them part by part to reduce the sense of monotonousness, watch 30 minutes and do something else, and again you watch another few minutes. We should not lose our focus that we watch movies to learn the language and not enjoy the story.
Listen and repeat the Dialogues.
One of the best parts of learning a language from movies is that we can pause and replay it, but such practice is impossible in our regular English classes.
If you missed out on some points or some pronunciation from the dialogue, we can go back and play it again. We need to imitate the dialogue until we get the perfect tongue like the speaker.
Keep a movie journal.
If we find some helpful phrases while watching movies, we need to note them down for future references and use these phrases during daily conversations.
We are acquiring useful real-time phrases through films and realize the usage of each phrase and the situations.
List of Best English movies for Learning English
The story about the movie:
The king's speech tells the story of the man who was supposed to become King George VI, the current father of Queen Elizabeth II. After his brother abdicates, George 'Bertie' VI reluctantly assumes the throne.
Bertie is plagued by a dreaded nervous stutter and is considered inappropriate as king and uses the help of an unorthodox speech therapist named Lionel Logue. Through a series of unexpected techniques and an unlikely friendship, Bertie can find his voice and boldly lead the country to war.
Why this is an excellent movie for learning English:
This movie teaches you how to improve English pronunciation and gets perfection on your tongue. It builds confidence to address the vast crowd, the techniques which the speech therapist uses were unconditional.
The story about the movie:
It is an animated film (cartoons) that follows a boy named Andy. Andy likes to play with his toys in his room. He is particularly fond of playing with his action figure called Woody. When Andy disappears, toys come to life.
Andy's mother gives him a new toy for his birthday called Buzz Lightyear and becomes Andy's new favorite toy. Woody feels hurt and jealous of the attention Andy pays to his new toy, and as a result, he tries to get rid of it.
However, when the two cartoon characters start fighting, they get lost. This story follows its adventure and is full of action and lots of laughter. Raise your hand when you lovingly remember your beloved children's toy after watching this fun and touching 1995 Pixar movie.
Why this is an excellent movie for learning English:
Toy Story not only reaches the beard of the heart and roars to laugh to infinity and beyond, but Toy Story also benefits your English proficiency! Therefore, Woody's lines are easy to understand, thanks to Tom Hank's unmistakable clear voice. Along with Tim Allen, voice actor for Buzz Lightyear, the duo comes to life and chats in fun dialogues.
The story about the movie:
This film is based on the true story of the Von Trapp Family singers. Mary is sent from the monastery, where she is trained as a nun to take care of the seven children of a widowed Captain von Trapp.
The film is set in Salzburg, Austria, and tells why they have to leave Austria during the war. Many of us know the story and have seen the movie, so it's excellent to improve conversational English.
Why this is an excellent movie for learning English:
Doe, deer, female deer; lightning, a golden sun drop. "We could keep singing the whole melody and return it to Do (oh-oh-oh), but we're here to tell you why this long-lasting American musical is a great tool to increase your spoken English.
From Julie Andrew's obvious pronunciation to Christopher Plummer's charismatic presentation of the film's quotable lines, The Sound of Music makes it easy to record everyday discourse. And, of course, the catchy soundtrack will undoubtedly be music to your ears.
The story about the movie:
This 1989 film tells the story of an English teacher who cheers his students through poetry. Intending to make their lives extraordinary, they live their lives through the Latin term carpe diem, taking advantage of the day.
Why this is an excellent movie for learning English:
To test the many forms of the written word, immerse yourself in the poetry world of the Society of Dead Poets. As Professor John Keating (played by Robin Williams) said: "Avoid using the word "very" because it is lazy. A man is not very tired; he's exhausted. Don't use 'very sad; use Morose." Who knew that watching a movie could significantly improve your vocabulary?
The story about the movie:
Would you like to know the story behind Facebook's invention? This story tells young Mark Zuckerberg, a young Harvard student who wants to revolutionize our communication with other people.
The story shows how Zuckerberg accidentally finds fame and becomes a billionaire, but there is a price.
Many of his old friends and people he's connected with over the years want him to fail. Mark Zuckerberg shows us that he has everything in terms of material things but very little in terms of friends.
Mark Zuckerberg is in court several times, and the film asks if it was Mark Zuckerberg who created the largest social network in the world, for the first time, Facebook.
Why this is an excellent movie for learning English:
It's an award-winning film by Aaron Sorkin. It is famous for its natural dialogue and fun lines, which makes this movie pleasant to watch and, of course, easy to follow.
In addition, almost everyone understands and knows Facebook. You can automatically relate to the movie, not to mention that you can also capture an excellent English vocabulary related to computers, technology and social networks.
The story about the movie:
'Stupid is just as stupid,' says Forrest Gump (played by Tom Hanks in an Oscar-winning performance) while talking to a stranger about his relative level of intelligence while waiting for a bus.
Despite his unnormal IQ, Gump lives a genuinely glamorous life with a place in the ring for many of the most memorable events of the second half of the 20th century.
Forrest plays numerous characters like a dancer during the story, becomes a football star, meets John F. Kennedy, serves with honour in Vietnam, speaks at an anti-war rally at Washington Monument, and hangs with the yippies.
He defeats the Chinese national team at the table tennis, meets Richard Nixon, discovers the robbery at Watergate, opens a profitable shrimp business, becomes an original investor in Apple Computers, and decides to run back and forth across the country for several years.
Meanwhile, during the special parade of his life, Forrest never forgets Jenny (Robin Wright Penn), the girl he loved as a child who makes her journey through the turmoil of the 1960s and 1970s that are much more disturbed than the road on which Forrest takes place.
On the other hand, other familiar characters around him added extra spices to make the Forrest character more attractive.
Why this is an excellent movie for learning English:
It is a perfect movie to learn English, as speech is slow due to Forrest Gump's mental problems. The language is simple and is very easy to follow. It will also teach you some essential parts of American history and culture. You'll learn about US involvement in the Vietnam War and the popular hippie movement in the 1960s.
It is a favourite movie among many people worldwide. If you ever get into a conversation talking about the film, this is a great movie that you can talk about as almost everyone has seen it.
Frequently Asked Questions
Do English movies improve communication skills?
Movies can help us to improve our listening and speaking skills and get control over pronunciation. It would encourage us to habituate with a foreign accent.
What is the best way to improve English communication skills?
A Few tips we need to follow to improve our communication skills:
Record our speech and listen carefully.
Find our mistakes from the recording.
Listen to public speakers and their way of communication.
watch some spoken English movies.
Involve ourselves to express our ideas in English.
If we start delivering our ideas in English while speaking, listen to some good speakers regularly and follow the way to express their ideas to the audience.
Do movies increase vocabulary?
Movies can improve our vocabulary skills because speakers use lots of colloquial words which are unknown to us. If we note down all new words and start to use these in our regular conversation, we could increase our vocabulary.
Which is the best movies to learn english?
There are lots of movies that can help us to learn the English language. Each movie has its dimensions to capture the language. Some of the films focus on pronunciation, accent, clarity of language, the standard of language, etc. Here are the few best English movies to learn English:
The King's Speech
Toy Story
The Sound of Music
Dead Poets Society
The Social Network
Forrest Gump
Conclusion:
I hope that the above information about the movies on communication skills would be helpful for us to get control over the English language. The steps and techniques shared over here are valuable and practical to all the level of English learners.
We should not only think that the best movies can improve our communication skills but the youtube channels can also help us to enrich our knowledge about the English language.
I have shared only a few English movies about communication, however, these are the best English movies for student to improve English.
If you want to refer to any film from your treasure, you can share your idea in the comment section.