Education is increasingly expensive. That does not have to be the case when learning different languages. Although there is a language learning software worth paying for, you will find plenty of great resources to learn and practice a language for free.
The ability to communicate effectively in more than one or even two languages becomes indispensable in any industry.
If you spend idle time at home during a pandemic situation but are eager to utilize it diligently, these free language learning apps will guide you through learning a language from start to finish. It would also help to learn spoken English, improving writing skills, reading skills as well.
I have put together six free and paid versions of language learning apps. Few of them are familiar to you, but you could also find numerous apps, would make your journey meaningful without spending a penny. You can also learn various languages from foreign language learning institutes.
Here is the List of Best Language Learning Apps:
Best Language Learning Apps
It is a well-known language learning app for foreign language learners, and it has more than 100 million users in the world. It provides program materials in around 35 languages.
Duolingo has an excellent podcast and interactive sessions for intermediate learners. Most of the courses of Duolingo help the learners to learn the new language in a contemporary style created by expert native speakers.
All content in Duolingo is free, but you can upgrade to a paid plan for $12.99 per month or around $84 a year.
Our Review on Duolingo
It is a user-friendly app, easy to get started to access it, download the app from the play store, choose a language, even you no need to register name over there.
It begins with the text, picture, and audio. The idea of approaching the different languages with audio and visual effects would inspire the learners to concentrate on the particular language.
At the end of each step, you could accelerate your knowledge to a different level by testing yourself.
Languages you can learn.
Duolingo deals with various languages like Spanish, French, German, Japanese, Italian, Korean, English, Chinese, Russian, Arabic, Hebrew, Vietnamese, Hawaiian, High Valyrian, Danish, Indonesian, Romanian, Welsh, Portuguese, Hindi, Turkish, Dutch, Latin, Swedish, Greek, Irish, Polish, Norwegian, Welsh, Scottish Gaelic, Czech, Swahili, Hungarian, Ukrainian, Klingon, Navajo, Esperanto, Finnish.
Best Language Learning app for Free
MemRise is likely to have the second language you want to learn. It provides nearly 200 languages. The free version of the app gives you access to the same number of languages as the Pro version offers, with fewer features.
MemRise is exceptional in its ability to engage in vocabulary exercises. Instead of tabs based on non-contextual vocabulary recognition, MemRise uses memes.
This playful approach to increasing vocabulary skills serves two purposes. First, students participate and entertain, despite the necessary repetition for language learning.
Secondly, it helps users to learn better. Memes often use unique and entertaining associations with the learned vocabulary. This technique helps to increase the accuracy and speed of recovery.
All content in Memrise is free, but you can upgrade to a paid plan for $8.99 per month or around $90 a year.
Our Review on Memrise
Memrise is another smooth learning tool like Duolingo. It is easy to work with because it supports offline courses. It offers not only several words and phrases but also similar sounding words in the paragraphs.
You could often find multiple images overlaid with foreign text that helps the reader to understand the concept clearly. Another important technique that makes it different from others like different language mixed translation.
Languages you can learn.
Memrise offers various languages like English, French, Spanish (Spain and Mexico), German, Arabic, Korean, Japanese, Japanese (no script), Turkish, Chinese (Simplified), Dutch, Italian, Swedish, Portuguese (Portugal and Brazil), Russian, Norwegian, Polish, Danish, Icelandic, Mongolian, Slovenian, Yoruba, and many more.
Best Language Learning app for speaking
Busuu is another learning app that covers 12 languages. It designs to help you learn a new language in just 10 minutes a day.
The app allows you to create a customized schedule and track your progress in achieving specific goals, such as passing a course, a business trip, or communicating with friends and family.
All the courses in Bussu are free, but you can upgrade to a paid plan for $6.66per month or around $69.96 a year.
Our Review on Busuu
Busuu offers an app that is easy to use and flexible in the way you work with courses. Select a preferred language you would like to learn, enroll and then decide where to start the course: beginner, elementary, intermediate, upper-intermediate, or travel.
The best quality of this app is the words and phrases you will learn, which is very helpful for beginners in regular use. You will face challenges to cross one level to another.
Languages you can learn.
Memrise offers various languages like German, Spanish, Portuguese, French, English, Italian, Russian, Polish, Turkish, Japanese, Chinese, Polish.
Best Language Learning App for Adults
Babbel is a german based language learning platform that provides fifteen languages. This learning app is the production of 100 educators and linguists.
This app offers various learning courses to the learners and provides multiple learning lessons like vocabulary, tongue twister, idiomatic, colloquialism in different levels.
All the courses in Bebbel are free, but you can upgrade to a paid plan for $12.95 per month or around $83.4 a year.
Our Review on Babbel
Download this app from the play store, and you can browse the courses and start with any lesson that sparks your interest. Babbel provides you with a few free versions. If you wanted to know further, you should go to the premium plan.
Languages you can learn.
Currently, it offers 15 languages Dutch, Danish, English, French, German, Indonesian, Italian, Norwegian, Polish, Brazilian Portuguese, Russian, Swedish, Spanish and Turkish.
Best Language Learning App for Android
Rosetta Stone is a professional language learning service, but it offers a free app designed specifically to help traveling-based fundamental learning words and phrases.
It offers 22 languages, all the languages divided into three to five levels.
Our Review on Rosetta Stone
There are dozens of images that link to common phrases spoken to you in the language you want to learn, and you need to repeat the words to practice your pronunciation.
You can jump to any lesson you like or go through it from beginning to end. There is also a phrasebook with primary words and words related to restaurants, hotels, and transportation – all are very useful for someone travelling.
All the courses in Rosetta Stone are free, but you can upgrade to a paid plan for $9.15 per month or around $54.98 a year.
Languages you can learn.
Currently, it offers 22 languages Arabic, Chinese (Mandarin), Dutch, English, Filipino, French, German, Greek, Hebrew, Hindi, Irish, Italian, Japanese, Korean, Persian (Farsi), Polish, Portuguese (Brazil), Russian, Spanish (Latin America & Spain), Swedish, Turkish, Vietnamese.
Best Language Learning App with Native Speaker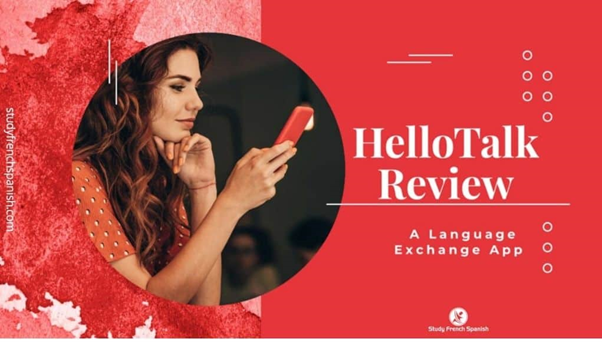 Where most language learning applications focus on creating self-guided lessons, HelloTalk takes to have a different approach. Instead of choosing the context from a predefined syllabus.
The Hello talk is a language learning platform that allows you to interact with the native speaker that is the most expected of the individual learner.
Users then communicate conversationally using text or voice messages. An in-app correction tool allows users to make real-time corrections to each other's scripts.
It provides an option called a 'translation tool' that helps you if you don't know the right word to convey your idea.
Today, it is one of the best intercultural language exchange applications with over 25 million user bases in 200 countries.
All the courses in Rosetta Stone are free, but you can upgrade to a paid plan for $6.99 per month or around $45.99 a year.
Our Review on Hello Talk
You can mark your main conversations or messages separately so that your favourite sets aren't lost. The text-to-speech option ensures you always know how to pronounce the responses you receive.
To help motivate the conversation, you can also organize a language exchange with lengths defined by various parameters such as time (of course!), several messages, or characters exchanged.
Languages you can learn.
Currently, it supports over 150 languages, including English, Chinese, Hindi, Spanish, German, French, Russian, Arabic, Italian, Japanese, Korean, and many more.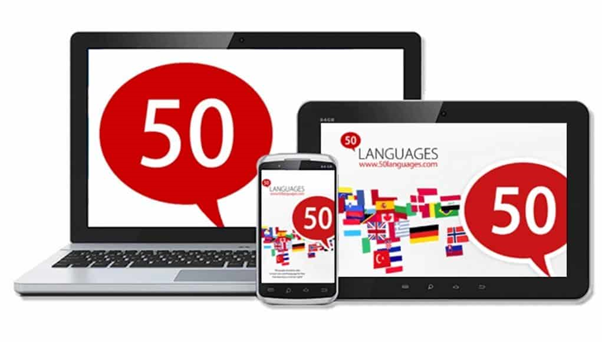 The 50 languages are one of those apps where you can pair any language you want to learn. It means that you are allowed to receive instructions in your native language whenever they are available.
For example, let's say you want to know two or more languages. In this case, you can get guidance in any foreign language you are considering while taking classes in another language.
The application offers audio and text methods to promote language studies. In addition, you can download audio files that you can hear while travelling, on the go, or during work breaks.
Our Review on 50 Languages
It is an incredible tool to learn foreign languages. If you consider the French language is impossible to comprehend. It sounds so crazy and not articulated. Downloading mp3 in 50 languages was the best language decision that would make you feel.
The speed of recording and the fact that they have two speakers are perfect for developing listening skills. Of course, building with local materials was still a lot of work, but 50 languages can reach us there. The lessons are well structured. The language is spoken clearly, and the exercises are also perfect.
Languages you can learn.
50 languages deal with various languages like English UK • English us • German • Spanish • French • Italian • Japanese • Portuguese PT • Arabic • Russian • Chinese • Adyghe • Afrikaans • Amharic • Belarusian • Bulgarian • Bengali • Bosnian • Catalan • Czech • Danish • Greek • Esperanto • Estonian • Persian • Finnish • Hebrew • Hindi • Croatian • Hungarian • Armenian • Indonesian • Georgian • Kazakh • Kannada • Korean • Lithuanian • Latvian • Macedonian • Marathi • Dutch • Norwegian – Nynorsk • Norwegian • Punjabi • Polish • Portuguese BR • Romanian • Slovak • Slovene • Albanian • Serbian • Swedish • Tamil • Telugu • Thai • Tigrinya • Turkish • Ukrainian • Urdu • Vietnamese •
Mondly is a very colourful and fun learning app, and you can use multiple features without subscribing to its premium version. This application provides you with images, translations and acoustic tools that uniquely support your awareness.
In addition, instructors say words and phrases that make it more natural for an applicant to remember them.
Learn a foreign language quickly and go one step ahead of everyone with Mondly Premium.
It offers to combine a conversation-oriented curriculum, speech recognition, and bite-sized lessons that make you flow faster, easier, and smarter than any other language course.
Our Review on Mondly
Learn the language you've always wanted to learn. Fun, fast and easy!
Most language learning apps only allow you to learn English. However, it's best to know from your native language so that you can learn from one of our 41 languages with Mondly. It's not easy to achieve this, but we think it's essential.
All content in Mondly is free, but you can upgrade to a paid plan for one language in one month for $ 6.57, and for 12 months, we need to pay $32.23. We can purchase lifetime access for all 41 languages for $90.03.
Languages you can learn.
Mondly deals with various languages like Greek, Romanian, Afrikaans, Croatian, Polish, Bulgarian, Czech, Slovak, Hungarian, Ukrainian, Vietnamese, Hindi, Bengali, Indonesian, Tagalog, Thai, English, Spanish, French, German, Italian, Russian, Japanese, Korean, Chinese, Turkish, Arabic, Persian, Hebrew, Portuguese, Catalan, Latin, Dutch, Swedish, Norwegian, Danish, Finnish, Latvian, Lithuanian,
Frequently Asked Question
What is the best app for language learning?
It depends on your criteria. If you are looking for a school-type experience, then Babbel is the best.
On the other hand, looking for multiple language learning then Duolingo, speak casually then Memrise, goal-orientated then Bussu.
Which is better Babbel, or Duolingo?
The main differences between Babbel and Duolingo are: Babbel is best suited for learning attempts who want to become a master in language, while Duolingo is best for the sporadic student who wants to try their hand.
Babbel offers classes with conversational practice and cultural immersion, while Duolingo offers adaptive learning classes.
Do language learning apps work?
Research reveals a positive outlook about the learning apps because they focus on student feedback. Learners use these apps as an extra practice platform.
What is the quickest language to learn?
According to the research, few languages fall into the list of quickest learning languages for instance
Dutch.
French.
Italian.
Norwegian.
Portuguese.
Romanian.
Spanish.
Swedish.
and Many; More
Can I learn two languages at the same time?
Yes, you can start with two languages at the same time. If you are serious about your learning courses and want to see your future bright using this language, I would prefer you to start with a single language.
conclusion
I hope the above-given information would reach your expected level. These learning Apps would help the learners at all levels, from kids to seniors.
If you are willing to learn a new language using these Apps, you are on the right platform. These apps would also help you learn how to speak English Fluently, select any one of these apps, download it on the smartphone that should be android.
During the learning session, you would come across various resources, map your aimed goal, fix the purpose, connect with the vast community.
Share your view and thought via the comment section and your experience and difficulties during the journey.